Backup not as a cost but as security and peace
Data is the lifeblood of every business.
When your data is at risk, so is your business, your job, your future.
ESX / ESXi, Hyper-V, KVM, physical systems, mixed environment? Windows, Linux, IOS?
Each architecture and every situation has its own characteristics that make it different from all the others. GEI, being able to make use of an operational structure that combines experience for many hundreds of man/years, is able to implement the solution that suits and choose the products that best meet specific requirements. The GEI partnership with several vendors allows to prepare and set up the most appropriate solution without necessarily being linked to a specific product.
Are you sure of your backups? Have you ever tried a restore?
GEI is able to verify and test restore of your data. With this service you will be more confident in the data protection policy adopted.
RPO / RTO?
Hot backup of critical structured data every 15 minutes.
Data Deduplication
Data deduplication avoids the unnecessary backup data previously stored.
Disk/Tape space reduction
Lower cost perTByte
ROI extremely low
Reduced backup time
Cost savings and cost containment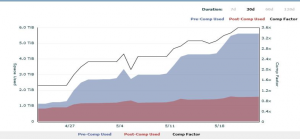 High Quality Post-Sales Services
The exploitation of modern technology, enables GEI to offer an excellent level post-sale service: